Exhibitions

Current Temporary Exhibits
Ruth Starr Rose: African American Maritime Life on Maryland's Chesapeake Bay
February 4 – August 12, 2017

The Banneker-Douglass Museum's new temporary exhibition, will feature the works of art created by artist Ruth Starr Rose (1887–1965). This exhibition focuses on Rose's role in depicting black life on the Chesapeake Bay. In addition to the collection of drawings, lithographs, paintings, and fresco work, this exhibition will include interpretive panels of the art, as well as oral histories/interpretive panels of African American people in their 80's and 90's, recollecting their involvement in trades including sail making, crab picking, decoy carving, and various waterman occupations.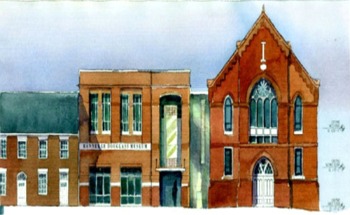 The Permanent Exhibit
Deep Roots, Rising Waters: A Celebration of African Americans in Maryland
This exhibition provides an overview of African American history in Maryland from 1633 through present day. Learn how African Americans throughout Maryland made lasting changes for all Americans.
Find out about Maryland's first African American settler, Mathias De Sousa.
Learn how Benjamin Banneker was able to use his almanac as an anti-slavery protest to Thomas Jefferson.
See the advertisement for the slave auction Kunta Kinte was sold in.
Hear one of Frederick Douglass's speeches against racism and slavery.
View a reward poster for Harriet Tubman while re-enacting a slave escape like that of Lear Green.
Explore Maryland's ties to North Pole expeditions through citizens Matthew Henson and Herbert Frisby.
Listen to stories and music from Carr's Beach and Sparrow's Beach.
Discover how Thurgood Marshall fought to change the education system in the United States.
Past Exhibits
Exhibit Application
Click here for our Exhibits Application

Available for Loan
Coming Soon!