Library
Sylvia Gaither Garrison Library Story
Named in honor of the first librarian, the SGGL supports the overall mission of the BDM by collecting and making avail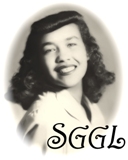 able for use resources that document and elucidate Maryland's African American Heritage. The Sylvia Gaither Garrison Library is located within the Banneker-Douglass Museum.
Archival records, audio-visual materials, blueprints, books, maps, pamphlets, periodicals, photographs, and Internet access for research purposes.
The collection has a retrospective focus. The historical specialty includes books, encyclopedias, and periodicals from the later 1960s — 1980s.
The SGGL houses an African American rare books and manuscripts collection. This 500-item compilation of materials ranges from the 1780s — 1970s.
Access Library Catalog
Click here to search our collections online.
The SGGL is open by appointment during regular museum hours. The public is invited to use materials on site.
To set up an appointment to visit the library, contact the museum at (410) 216-6180 or by email at bannekerdouglassmuseum@gmail.com
Donate
Interested in adding to our collection? Please see our Donate page for more information.