Plan Your Visit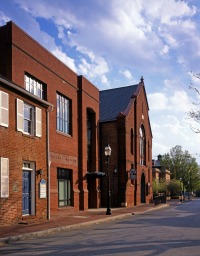 Hours
Sunday           CLOSED
Monday          CLOSED
Tuesday         10:00 a.m. – 4:00 p.m.
Wednesday   10:00 a.m. – 4:00 p.m.
Thursday       10:00 a.m. – 4:00 p.m.
Friday            10:00 a.m. – 4:00 p.m.
Saturday        10:00 a.m. – 4:00 p.m.
Fees
Admission to the museum is free, however donations are encouraged.
Guided Tours
Groups of five or more are asked to contact the museum prior to their visit in order to provide the greatest access to the museum and its exhibitions. 
Permanent Exhibition Tour 1.5 hours
Permanent and Temporary Exhibitions Tour 2 hours
The tour fee is $25.00 for 30 participants  
Tour must be scheduled a minimum of two weeks in advance. Please complete the Guided Tour Request form.

For more information, please contact LeRonn Herbert at 410-216-6181 or leronn.herbert@maryland.gov
Holiday Closures
New Year's Day
Birthday of Dr. Martin Luther King, Jr
Presidents' Day
Memorial Day
Independence Day
Labor Day
Columbus Day
Veterans Day*
Thanksgiving Day
American Indian Heritage Day
Christmas Day
*When a State holiday occurs on a Saturday or Sunday, the holiday is observed on the Friday before or the Monday after the actual holiday, respectively.
Directions
The Banneker-Douglass Museum is located in the old Mount Moriah A.M.E. Church at 84 Franklin Street in Annapolis (off Church Circle in the Annapolis historic district).
Parking
Limited two-hour parking (free and metered) is available near the museum.
Parking is available by shuttle from the Naval Academy Stadium parking lot, and there are nearby commercial parking garages and limited on-street parking. For more information, contact the museum by telephone at (410) 216-6180 or by email at bannekerdouglassmuseum@gmail.com
Free Saturday parking at Calvert Garage | 19 Saint Johns St. | Annapolis, MD
Please consider the Annapolis Circulator!