Exhibitions
Temporary Exhibit
The Radical Voice of Blackness Speaks of Resistance and Joy
NOVEMBER 10, 2022 – SEPTEMBER 30, 2023
Curatorial Statement
Freedom, Equality, and Citizenship—Harriet Tubman ran for it, Frederick Douglass sanctioned it in his speeches, Benjamin Banneker mapped it in the stars, Thurgood Marshall enforced laws to ensure it, and Lillie May Carroll Jackson and Martin Luther King, Jr. marched for it.
"Men talk of the Negro problem. There is no Negro problem. The problem is whether the American people have honesty enough, loyalty enough, honor enough, patriotism enough to live up to their Constitution…"
— Frederick Douglass
Since its inception, the United States has failed to uphold its promises as set forth in the Preamble. The basic principles to administer equal Justice and ensure domestic Tranquility for its Black citizens, as the Constitution grants to all U.S. citizens. Legislation written to govern those occupying the land has yet to benefit all who walk upon it. The fight for freedom, egalitarianism, the right to life, liberty, and the pursuit of happiness remains an ongoing and complex journey for African Americans.
The Radical Voice of Blackness Speaks of Resistance and Joy explores America's fraught history of systemic racism while celebrating the resiliency of a people who have persevered despite social and political devices to suppress them.
Featured in the exhibition are multidisciplinary works created by multigenerational Maryland-based African American artists along with commissioned portraits from the museum's collection in its tribute to the resisters, the freedom fighters, past and present, who, through a lifetime commitment or single act of bravery, have asserted, declared, and validated Black humanity.
Here, the joyous moments of Black life and the quotidian experiences that honor the Black family are celebrated through expressions of healing, leisure, and joy. Artists pay homage to the grit and determination of a people to maintain their civility despite systems of oppression. And in so doing, declare autonomy over Blackness, reclaiming it from negative connotations and, in its place, affirming its mortality, dignity, and pride.
The Radical Voice of Blackness Speaks of Resistance and Joy honors historic Maryland icons Benjamin Banneker (1731-1806), an astronomer and mathematician, as well as abolitionists and social activists Frederick Douglass (1818-1895), and Harriett Tubman (born Araminta "Minty" Ross, c. 1822-1913).
Also acknowledged are the contributions of social reformers Dr. Lillie May Carroll Jackson (1889 – 1975), organizer of the Baltimore branch of the National Association for the Advancement of Colored People (NAACP),[i] and Thurgood Marshall (1908 – 1993), the first African American Supreme Court Justice.
In looking beyond Marylanders for inspiration, we turn to Reverend Dr. Martin Luther King, Jr. (1929-1968, Atlanta, Georgia), the leader of the civil rights movement,[ii] who devoted his life to disenthrall Black people from the social epidemic of violence, and oppression, systemic racism, and discrimination.
Movements in which these activists have played a significant role, from the American Anti-Slavery Act of the 1800s,[iii] Civil Rights of the 1950s and 1960s,[iv] Black Power of the 1960s and 1970s,[v] lead us to Black Lives Matter,[vi] the movement of the day, as the collective struggle for Black equality continues.
The investigation of African American resistance and joy emerges from a confluence of artistic practices, paintings, photographs, prints, videos, and 3-dimensional and conceptual works—resulting in the compelling narratives that give voice to the voiceless and dispossessed. Artists challenge notions of social justice and autonomy, while sanctioning and proclaiming Black truth.
Featured artists: Devin Allen, Tawny Chatmon, Wesley Clark, Larry Cook, Oletha DeVane, Edward D. Ghee, Sr., Phylicia Ghee, Jerrell Gibbs, Curlee Holton, Monica Ikegwu, Megan Lewis, Charles Mason, III, Wendel Patrick, Joyce J. Scott, and Chrystal Seawood. Also included are commissioned portraits of Benjamin Banneker, Frederick Douglass, Lillie Carroll Jackson, Harriet Tubman by Hughie Lee-Smith, and a portrait of Martin Luther King, Jr. by Nathaniel Gibbs from the museum's fine art collection.
— Myrtis Bedolla, Curator
Galerie Myrtis
---
[i] Dr. Lillie Carroll Jackson Civil Rights Museum. Dr. Lillie May Carroll Jackson. https://www.lilliecarrolljacksonmuseum.org/dr-jackson
[ii] Wikipedia. Martin Luther King, Jr. (2022, July 9).
https://en.wikipedia.org/w/index.php?title=Martin_Luther_King_Jr.&oldid=1097277587
[iii] Britannica, T. Editors of Encyclopaedia (2016, July 28). American Anti-Slavery Society. Encyclopedia Britannica. https://www.britannica.com/topic/American-Anti-Slavery-Society
[iv] Carson, C. (2022, March 6). American civil rights movement. Encyclopedia Britannica. https://www.britannica.com/event/American-civil-rights-movement
[v] Smithsonian Museum of African American History and Culture. The Foundations of Black Power. (2019, 5, July) https://nmaahc.si.edu/explore/stories/foundations-black-power
[vi] Britannica, T. Editors of Encyclopaedia (2022, February 27). Black Lives Matter. Encyclopedia Britannica. https://www.britannica.com/topic/Black-Lives-Matter
---
Permanent Exhibit
Deep Roots, Rising Waters:
A Celebration of African Americans in Maryland
This exhibition provides an overview of African American history in Maryland from 1633 through present day. Learn how African Americans throughout Maryland made lasting changes for all Americans.
Find out about Maryland's first African American settler, Mathias De Sousa.
Learn how Benjamin Banneker was able to use his almanac as an anti-slavery protest to Thomas Jefferson.
See the advertisement for the slave auction Kunta Kinte was sold in.
Hear one of Frederick Douglass's speeches against racism and slavery.
View a reward poster for Harriet Tubman while re-enacting a slave escape like that of Lear Green.
Explore Maryland's ties to North Pole expeditions through citizens Matthew Henson and Herbert Frisby.
Listen to stories and music from Carr's Beach and Sparrow's Beach.
Discover how Thurgood Marshall fought to change the education system in the United States.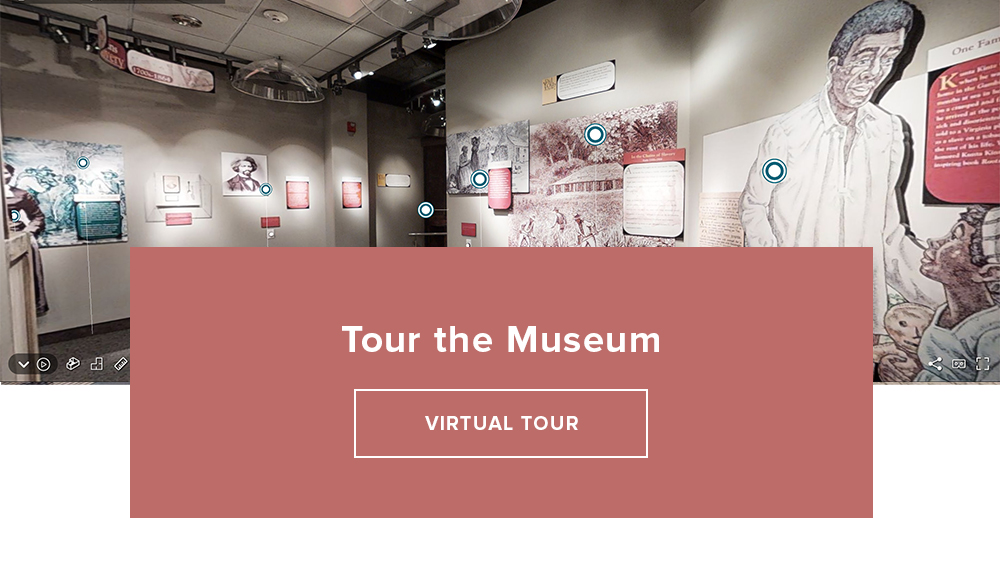 ---
Past Exhibits
2009 – 2016 Exhibits – click here