Exhibitions
Freedom Bound: Runaways of the Chesapeake
SEPTEMBER 18, 2021 – MARCH 1, 2022
This powerful exhibit tells nine stories of resistance to bondage and servitude in the Chesapeake Region from the Colonial Period to the American Civil War (1728-1864). The Banneker-Douglass Museum invites visitors to consider what resistance and freedom look like in the present day.
---

Public Art + Black Voices + Civil Rights


February 15, 2020 – August 31, 2021
Temporary Exhibit


This exhibit explores the intersection of public art, Black voices, and civil rights with sixteen murals that transform the interior galleries of the museum.

Artists: Steuart Hill Academic Academy Students (Teaching Artist: Crystal Micriotti), Ryan Allen, Bowie State University (Public Arts Class), Nikki Brooks, Jay Coleman, Brandon Donahue, Olivia Gittens,

Nessar

Jahanbin, Jabari Jefferson, Gina Lewis, Megan Lewis, Greta Chapin McGill, Future History Now, Latoya D. Peoples, Zsudayka Nzinga Terrell, James Terrell, and Ernest Shaw.
---
Permanent Exhibit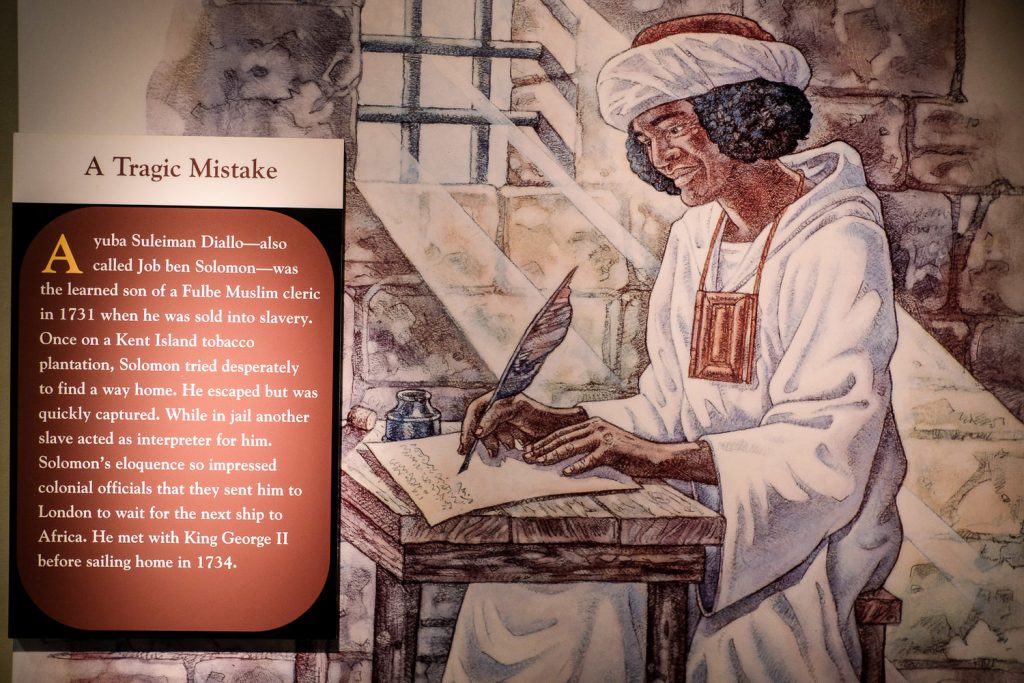 Deep Roots, Rising Waters:
A Celebration of African Americans in Maryland
This exhibition provides an overview of African American history in Maryland from 1633 through present day. Learn how African Americans throughout Maryland made lasting changes for all Americans.
Find out about Maryland's first African American settler, Mathias De Sousa.
Learn how Benjamin Banneker was able to use his almanac as an anti-slavery protest to Thomas Jefferson.
See the advertisement for the slave auction Kunta Kinte was sold in.
Hear one of Frederick Douglass's speeches against racism and slavery.
View a reward poster for Harriet Tubman while re-enacting a slave escape like that of Lear Green.
Explore Maryland's ties to North Pole expeditions through citizens Matthew Henson and Herbert Frisby.
Listen to stories and music from Carr's Beach and Sparrow's Beach.
Discover how Thurgood Marshall fought to change the education system in the United States.
---
Past Exhibits
2009 – 2016 Exhibits – click here