Exhibitions
Temporary Exhibits
A Story to Tell
Celebrating Black Art & Literacy in Maryland
NOVEMBER 8, 2023 – JANUARY 5, 2024
GUEST CURATOR: CHANEL C. JOHNSON
A Story to Tell is an arts and literacy exhibition celebrating the beauty and importance of Black history, art, & literature. The exhibit features large portraits by Maryland artist Ernest Shaw and children and young adult (YA) books presented by Baltimore Read Aloud.  Baltimore Read Aloud is a leading bookstore that features socially conscious books by Black authors. The Banneker-Douglass Museum invites families, art lovers, and readers to explore the exhibited art and literature to build greater connections, appreciation, and understanding of Black history and heritage. 

The Artist: Ernest Shaw presents large portraits of Black American boys (elementary and teenage children). Many of the exhibited portraits depict African masks that reconnect these children to their African roots and traditions, fractured during the transatlantic slave trade. Each mask has a special meaning and is a source of empowerment and strength. In response to the systemic criminalization and exploitation of Black boys in the US, Shaw creates large, vibrant portraits to amplify their experiences, history, vulnerability, and strength. As a product of Baltimore City Public Schools, Baltimore School for the Arts, Morgan State University, and Howard University, Shaw recognizes the importance of using his skills and talents to teach and uplift young people in Maryland and beyond. 

The Books: The books on display are curated by Baltimore Read Aloud, a social enterprise that promotes and sells diverse books for children and adults. The Founder of Baltimore Read Aloud, Nicole Johnson, states, "I discovered that books with Black characters were hard to find at your local Barnes and Noble or independent bookstore. Not only were the experiences of Black people underrepresented on retail shelves, anyone who was not white, cis-gender, heterosexual, able-bodied, or from a Christian-based religion would have a hard time finding themselves in children's literature…Literacy is liberation, and I hope Baltimore Read Aloud can shine a light on books that have the power to liberate through representation." Baltimore Read Aloud is a key contributor to local literacy efforts, giving young people in Maryland the tools to read and write their own stories.

— Chanel C. Johnson, Curator

Special Thanks: Maryland Commission on African American History and Culture, Banneker-Douglass Museum Foundation, Inc., Friends of the Banneker-Douglass Museum, and Arts Council of Anne Arundel County, Ernest Shaw, and Baltimore Read Aloud.

Opening Reception & Kwanzaa Celebration: Saturday, December 9th
---
Revisit/Reimagine
FEBRUARY 1, 2024 – JANUARY 4, 2025
GUEST CURATOR: THOMAS JAMES
Congress of Racial Equality (C.O.R.E.), Founded in 1942 by an interracial group of University of Chicago students, pioneered key tactics of the modern civil rights movement, using sit-ins and other forms of civil disobedience to challenge segregation.

Gloria Richardson (center), civil rights activist known as the leader of the Cambridge movement in the early 1960s in Cambridge, Maryland

Walter Carter, civil rights activist, chairman of the Baltimore chapter of the Congress of Racial Equality (C.O.R.E., 1960-1963) & Maryland coordinator for the 1963 March on Washington
Revisit/Reimagine will be a multidisciplinary exhibition that features historical photographs from the Afro Newspaper archive that chronicle the African American experience, civil rights leaders, and activities in Maryland. Artwork from Maryland Black artists are included to interpret the themes of the photographs.

With 2024 being the 60th anniversary of the signing of the Civil Rights Act (1964), the Maryland Commission on African American History and Culture (MCAAHC) and Banneker-Douglass Museum are declaring 2024 as "Maryland's Year of Civil Rights" with exciting and relevant programming, exhibitions, and partnerships to commemorate the milestone year of this groundbreaking legislation.

From 1964's Bell vs. Maryland to 1963's Treaty of Cambridge, Maryland has been the backdrop to civil rights legislation throughout the years. Additionally, Maryland has been the home to civil rights icons who will forever have a place in the history of this nation, such as Verda Freeman Welcome, Thurgood Marshall, and Gloria Richardson.

Special Thanks: Maryland Commission on African American History and Culture, Banneker-Douglass Museum Foundation, Inc., Friends of the Banneker-Douglass Museum, Association of African American Museums, and the National Park Service African American Civil Rights Network.

Opening Reception: Saturday, February 24th
---
Permanent Exhibit
Deep Roots, Rising Waters:
A Celebration of African Americans in Maryland
This exhibition provides an overview of African American history in Maryland from 1633 through present day. Learn how African Americans throughout Maryland made lasting changes for all Americans.
Find out about Maryland's first African American settler, Mathias De Sousa.
Learn how Benjamin Banneker was able to use his almanac as an anti-slavery protest to Thomas Jefferson.
See the advertisement for the slave auction Kunta Kinte was sold in.
Hear one of Frederick Douglass's speeches against racism and slavery.
View a reward poster for Harriet Tubman while re-enacting a slave escape like that of Lear Green.
Explore Maryland's ties to North Pole expeditions through citizens Matthew Henson and Herbert Frisby.
Listen to stories and music from Carr's Beach and Sparrow's Beach.
Discover how Thurgood Marshall fought to change the education system in the United States.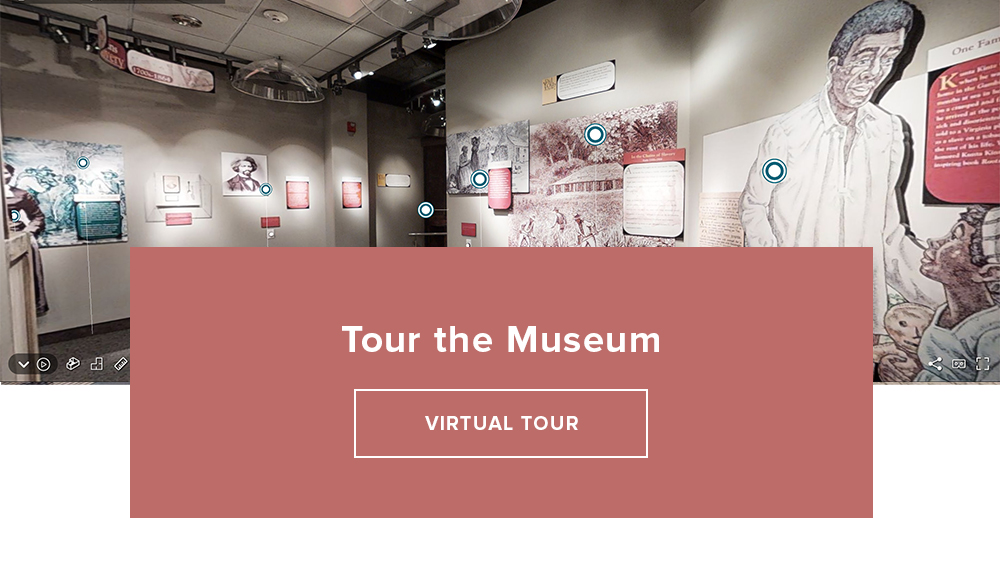 ---
Past Exhibits
| | |
| --- | --- |
| The Radical Voice of Blackness Speaks of Resistance and Joy | September 1, 2022 – September 30, 2023 |
| HONOR: Celebrating Black Women's Art | April 19 – June 27, 2022 |
| Freedom Bound: Runaways of the Chesapeake | September 18, 2021 – March 1, 2022 |
| The Black Vote Mural Project | February 15, 2020 – August 31, 2021 |
| Doing the Work: Celebrating 50 Years of the MCAAHC | August 10 – December 28, 2019 |
| Verda's Place: An Homage to a Valiant Woman | March 8 – December 28, 2019 |
| Songs of the Caged Bird | January 12 – June 8, 2019 |
| Laurence Hurst Anniversary Show | January 12 – June 8, 2019 |
| Douglass Reading Room | July 5, 2018 – February 28, 2019 |
2009 – 2016 Exhibits – click here