Internship Opportunities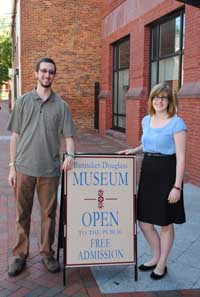 The Banneker-Douglass Museum (BDM) offers internship opportunities to those who want to gain experience at the state of Maryland's museum for African American history and culture. 
An internship is a structured learning experience scheduled within a specific time frame. The experience must be relevant to the intern's academic and professional goals and BDM objectives. An internship is performed under the direct supervision of a BDM staff person.
Internship opportunities are available to undergraduate and graduate students in any area of concentration; however our program focuses on those who specialize in African American studies/history, American studies/history, English, art, museum studies, historic preservation, education, marketing, and communications.
Internships are usually unpaid, but will fulfill credit requirements for most universities and colleges. BDM staff will work with the student and his/her professor to develop an internship that will meet academic requirements.
Students from the University of Maryland, MICA, University of Delaware, St. John's College, and other institutions have successfully completed challenging and beneficial internships in collections, records management, and museum interpretation.
Current Opportunities
For more information, please contact us at bannekerdouglassmuseum@gmail.com.