History
Background
The Banneker-Douglass Museum, named for Benjamin Banneker and Frederick Douglass, was dedicated on February 24, 1984. The original museum was housed within the former Mount Moriah African Methodist Episcopal Church in the heart of historic Annapolis–constructed in 1874 by a congregation of free African Americans whose roots go back to 1799. The Victorian-Gothic structure was included in the Annapolis Historic District in 1971 and placed on the National Register of Historic Places in 1973. Thanks to a community-led effort to transform the former Mt. Moriah AME Church building into a museum, the BDM opened on February 24, 1984. In light of this legacy, the BDM focuses on a community-based approach to building collections and exhibition and in providing tours, public programs, and other services.
Namesakes
Who is Benjamin Banneker?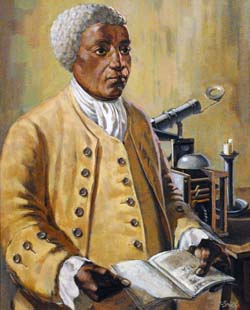 Free-born on a tobacco farm in Baltimore County, MD, Banneker was the first African American man of science and mathematics. Among his scientific achievements are crafting the first wooden striking clock in America, writing several widely popular almanacs, and assisting with surveying Washington, D.C.
Banneker also protested against slavery. In a bold 1791 letter to Thomas Jefferson, Banneker compared the righteous fight for freedom by the Colonists to the plight of the enslaved person in America. Since Jefferson's response seemed to acknowledge Banneker's reasoning, he wisely published their correspondence in one of his almanacs. In later life, he kept a detailed journal of his nature studies, especially his examination of bees.
Among the MD organizations honoring Banneker is the Benjamin Banneker Historical Park & Museum in Baltimore Country, which is situated on Banneker's original homestead. In 1980, the United States Postal Service issued a stamp in honor of this self-taught scientist's achievements.
Who is Frederick Douglass?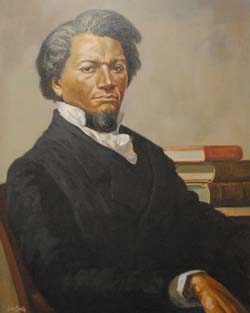 Born Frederick Augustus Washington Bailey (1818-1895) in Talbot County, Maryland, Frederick Douglass was the first African American to gain international prominence as a social crusader. With his commanding presence, Douglass was a tireless advocate for the anti-slavery movement and also supported the woman's suffrage campaign.
Douglass escaped from slavery in 1838. Shortly thereafter, he joined the American Anti-Slavery Society as a traveling speaker. Throughout the 1830s and 1840s, Douglass lobbied politicians and met with presidents for the liberation cause. He also produced several newspapers. With the publication of his first autobiography in 1845, the man and his mission became known to the world.After the ratification of the Fifteenth Amendment in 1870, Douglass assumed many posts, including president of the Freedman's Savings & Trust Company and recorder of deeds in D.C. He was appointed Minister Resident and Consul-general to Haiti in 1889.
Among the MD organizations honoring Douglass are the Frederick Douglass Museum & Cultural Center in Highland Beach and the Frederick Douglass-Isaac Myers Maritime Park in Baltimore.